History of Madura Batik Motifs and Explanations
Madura is not only known for its karapan cow activities, but you also have to know the colorful beauty, namely Madura batik, which has the essence of art with superior taste. Madura batik is one of the cultural heritage of Indonesia which is now starting to be loved by the people of Indonesia because of the variety of written batik motifs that Madura batik.
The history of Madura batik cannot be separated from the role of the Pamelingan kingdom in Pamekasan, Madura. The Pamelanan kingdom had a palace called mandilaras which was the center of government at that time under the control of Prince Ronggosukowati.
Historically, Madura batik developed from the 16th century to the 17th century AD. When there was a war in Pamekasan Madura between Raden Azhar (Kiai Penghulu Bagandan) against Ke' Lesap (a Madurese son of Cakraningrat I descent) news spread that Raden Azhar was wearing his oversized clothes using a machete-style batik shirt or leres batik motif in Madurai terms. History says that Raden Azhar was a scholar who was also a spiritual advisor to the Duke of Pamekasan, namely Raden Ismail (Adipati Arya Adikara IV).
One of the figures who are considered important and most credited with introducing batik to the Madura region is the Adipati of Sumenep, Arya Wiraraja, who is close to Raden Wijaya of the Majapahit kingdom.
Madura Batik Motifs and Explanations
In many references, it is said that the Leres batik motif is a Madura batik motif by highlighting symmetrical transverse lines, in harmony with Javanese batik motifs in general, namely solo batik, Pekalongan batik, and Yogyakarta batik. Madura batik motifs tend to present bold colors such as blue, yellow, red, and green leaves. The color produced on the fabric is made from natural dyes, such as noni and tingi used as a red dye.
Meanwhile, Tarum leaves are used for blue dye, as well as mundu skin which is added with alum to give a green color effect to Madura batik cloth. The process of soaking Madura batik cloth is carried out to determine the level of light and dark color produced, the duration of soaking Madura batik cloth is usually between 1-3 months. In addition to determining the dark and light of the fabric, it also aims to make the color of Madura batik cloth more durable.
Canting scratches and hand movements created on Madura batik cloth involve feelings and thoughts.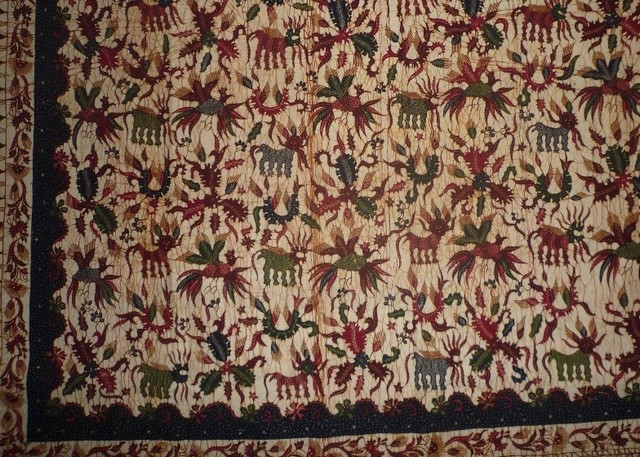 The various Madura batik motifs are taken from animal and plant motifs, as well as combination motifs which are the creations of the batik makers. Madurese batik has 2 types of batik motifs, namely coastal batik motifs which have motifs and colors that tend to be bold, on the other hand, interior batik tends to be classically styled with dark color main ornaments.
One of the other characteristics possessed by Madura batik is the emergence of dominant lines that are presented in one batik design. Each Madura batik design has a unique story and philosophy to represent the daily life of the Madurese community.
Madura batik center
In the Pamekasan area, you will find one of the Madura batik motifs that use relatively bright and sharp colors such as the Sekarjagat batik motif, Matahari, Keong Mas, Memba Leaves or mojo leaves, and Gorek Basi. Several Pamekasan batik motifs have been registered with patents, such as the Sakereh, Keraben Sapeh, Padih-kepa, Kempeng Saladerih, and Beads batik motifs.
In the Sumenep area, you will find Madura batik motifs with only one color even though they still have quite bright color shades. In 1970 Sumenep batik began to squirm again with a superior motif, namely the chicken motif with a red base color to show the characteristics of Madura batik itself. The Madura batik center is located in the West Pekandangan Village which is located about 18 Km from the city center.
In the Bangkalan area, you will be satisfied with coastal batik motifs, precisely in the Tanjungbumi area, the exoticism of Madura batik which was created using a special technique called batik gentongan. More than a thousand batik motifs were created in Bangkalan, the names of the motifs created are closely related to the characteristics of the Madurese residents by consenting their batik names such as banjar ramo, ramo, rongterong, prone, perkaper, five colors, and wood fiber.
The process of making gentongan batik takes up to 1 year. The batik motifs are quite complex and detailed, one example is to get 1 color of batik gentongan, it requires a minimum of 6 weeks of soaking the batik cloth in a special barrel. However, the making of this gentongan batik is still maintained by the people of Tanjungbumi, Madura, because it is a cultural heritage of the archipelago that must be preserved.
Bibliography of Madura Batik History and Explanations
Anonim, 2014. Batik Madura: Menemukan Kain Batik Gentongan yang Cerah dan Unik. Online: www.indonesia.travel accessed at 3 mei 2015.
Anonim, 2014. Batik Madura. Online: disperindag.pamekasankab.go.id/?page_id=113 accessed at 3 mei 2015.